Tuesday, August 28, 2012
Starting off with a couple photos of the kids. Here's one of Harper about a week ago.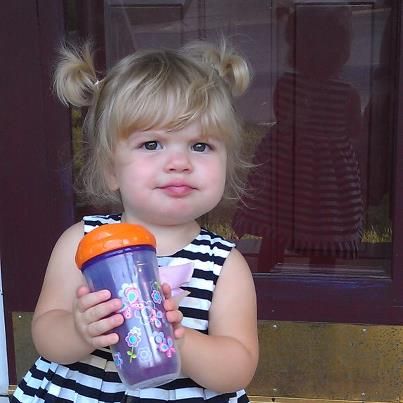 And here's one of Sam from earlier today, his first day of Kindergarten.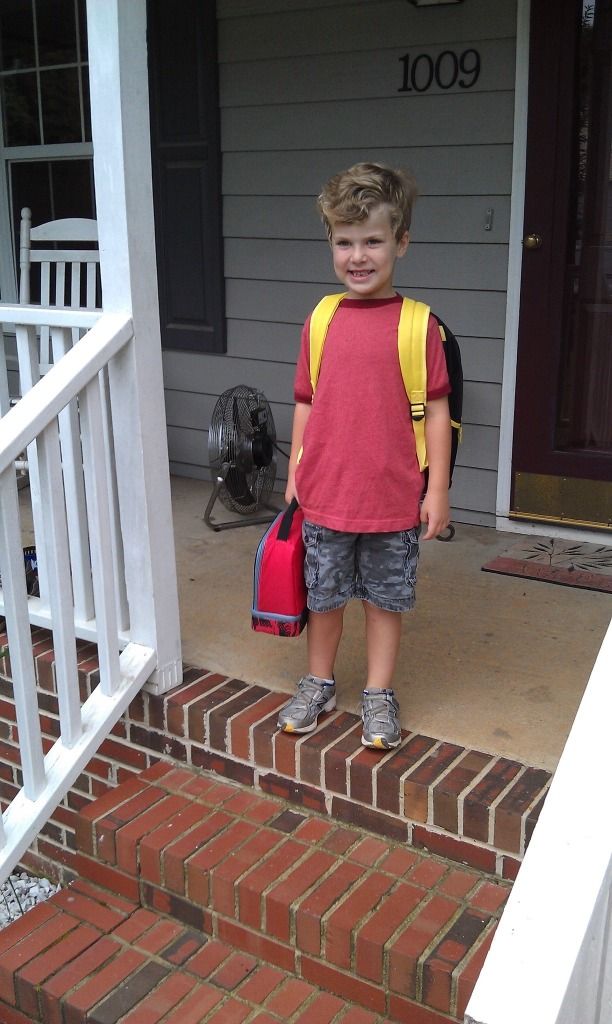 Where does the time go?? 2012 has been a banner year at the Cochran household. We launched one of the most successful eBooks to date in January, and The Loneliest stayed on the bestseller lists through much of February and March. This summer, I took a step back from fiction writing and put all of my focus and energy into working on the textbook for Bedford/St. Martin's Press that Susan and I are under contract for. I also hosted a major planning meeting for Bouchercon 2015, which I'm chairing. We flew in our main committee members and laid out a $200,000 budget for the conference.
Just last week, I started back at NC State University for the fall semester.
And, oh yeah, I bought a boat! (Almost forgot.)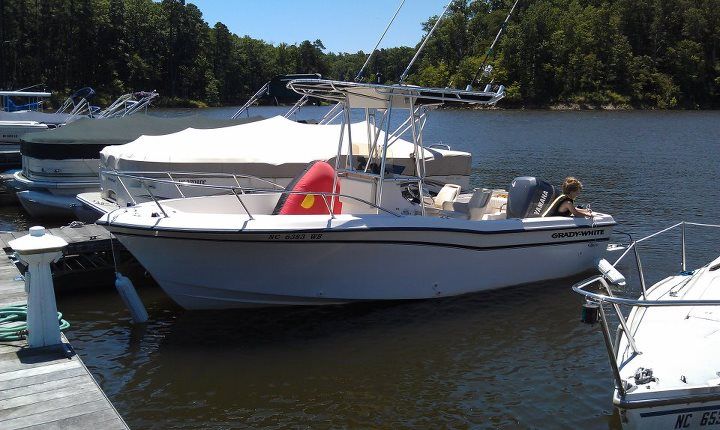 This December we're planning a major trip to Key West again around Christmas, but this year we rented out an entire complex and we've managed to find friends and family to rent all of the units and so it's going to be one big tropical Christmas good time. Let us know if you'd like to join us, and I'll send you some recommendations for places to stay on the island. From our house to yours, we wish you all the best in 2012 and beyond.
Be well, people. And good luck!
link
Thursday, July 14, 2011
Summer 2011
We have a daughter. In April, 2011, Harper Jane Cochran was born. It's been an amazing summer so far. The baby's doing well, and Susan and I are slowly adjusting to the changes in our family dynamic.
The good news is that Harper is just as healthy and happy as we could hope for. She's already sleeping through the night, and Sam has adjusted remarkably well to having a little sister in the house.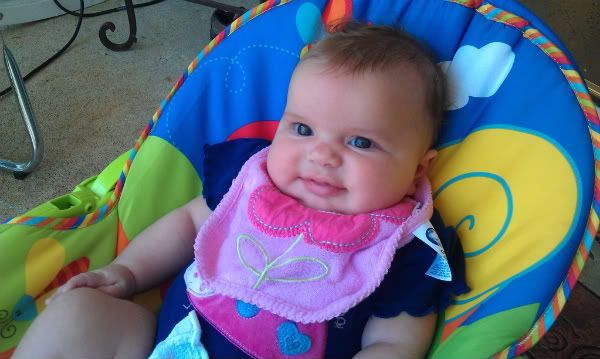 My writing continues to go well, though the amount of time I've had in recent months (understandably) has slowed. I've accepted it as the natural progression of where I'm at with my family and career to this point. I'm planning to release a new novel this fall titled The Loneliest, a paranormal romance.
The big writing news of late is that my website howtopublishabook.org has proven to be quite successful in 2011, and I'm having fun growing the site and interviewing lots of publishing professionals.
Additionally, I've put in a proposal to bid to host Bouchercon in Raleigh in 2015. The conference is the largest annual conference in the mystery/crime fiction community, and I'll formally pitch Raleigh at the board meeting in St. Louis in September. I know New Orleans and Columbus are bidding as well, so we'll have strong competition. If Raleigh wins, we'll draw close to a million dollars in revenue to the downtown area... not to mention bringing in the very best mystery writers, readers, and publishing professionals in the world.
Last month I received word that the opening 7,500 words of my new novel Eddie & Sunny has been accepted for publication at Needle Mag. This was welcome news, and it has spurred me to want to continue on with the book. I was beginning to lose heart a bit this winter; I suppose it's just the normal ups and downs of being a writer. So, that an objective third-party wants to publish the opening suggests that I should probably stick with this novel and with this here writing thing.
In the first part of July, Susan and I visited family in Chicago, Indiana, and Ohio ... and while there were many cool photos I have selected one to close this blog post with. Chicago at night. We saw U2 at Soldier Field on July 5, and I snapped this picture when walking back home afterward.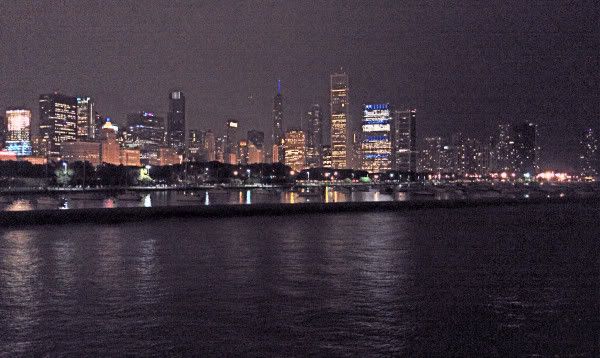 From our house to yours, we wish you all the very best this year. Thanks so much for visiting, and enjoy the rest of 2011!
Stacey, Susan, Sam, and Harper Jane
link
Friday, December 17, 2010
A Key West Christmas
Santa has been good to us this year. We're spending three weeks (Dec 10-28) in Key West, Florida.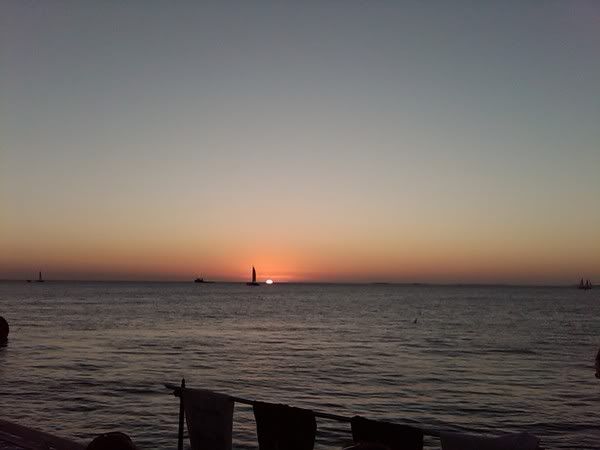 Key West is the southernmost city in the continental United States, and it just so happens to be within driving distance from Raleigh, North Carolina.... albeit a 15-hour drive. Nonetheless, we packed the car and headed down for some relaxation this holiday season. One of the first days in Key West, I visited the Ernest Hemingway house on Whitehead Street in the heart of Old Town. Hemingway lived here for more than a decade and wrote some of his most famous stories in this home. His influence can be felt all over the island, and people come to the house with wide-eyed enthusiasm.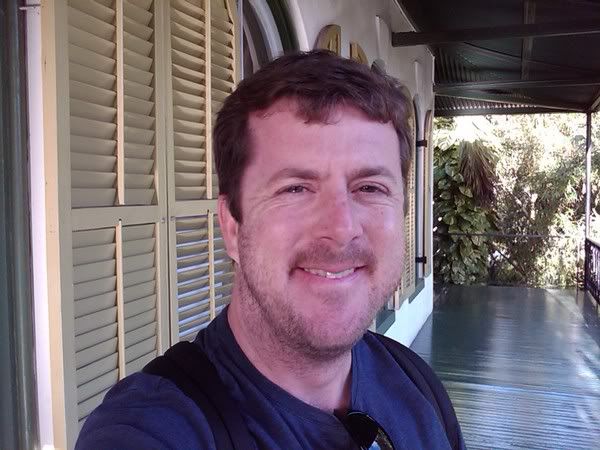 One of the nice things about spending Christmas in Key West is that you can wear shorts and get a suntan, while much of the country is in the grip of snow, ice, and sleet.
This is the second year I've come down to Key West for Christmas, and this past spring I managed to get into the best shape of my adult life as a direct result (I believe) from exercising and soaking up the sun.
You've just got to be sure to apply your sunscreen.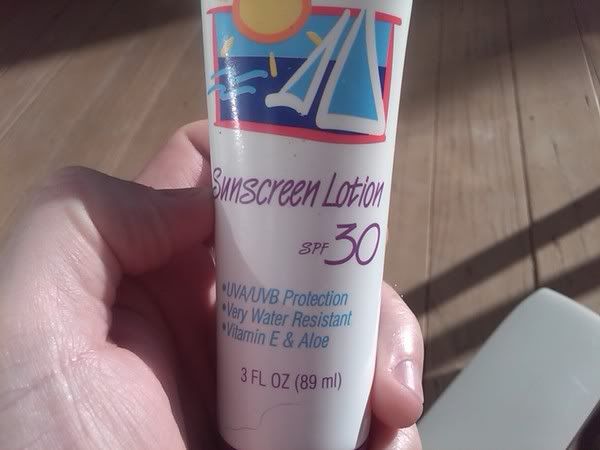 All that said, I have managed to get some work done so far. Mainly, I've been editing a novel of mine titled The Eternalist, which I've been chipping away at the last three and a half years.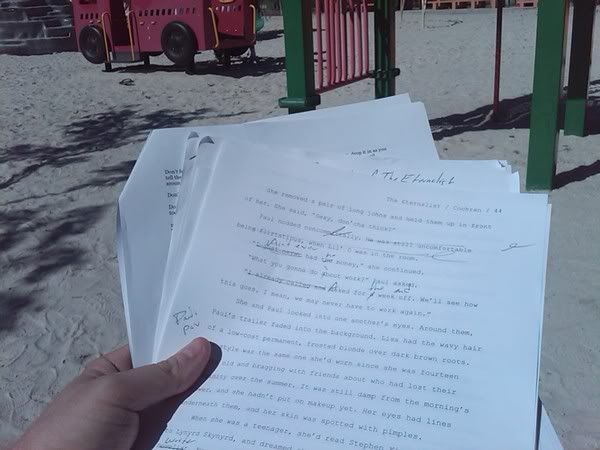 And because we drove, I was able to bring my bike and bike trailer, and so Sam and I have done a lot of cruising. Sam doesn't seem to mind.
Susan joined up with Sam and I after a week, and we've had some quality time together this year for Christmas.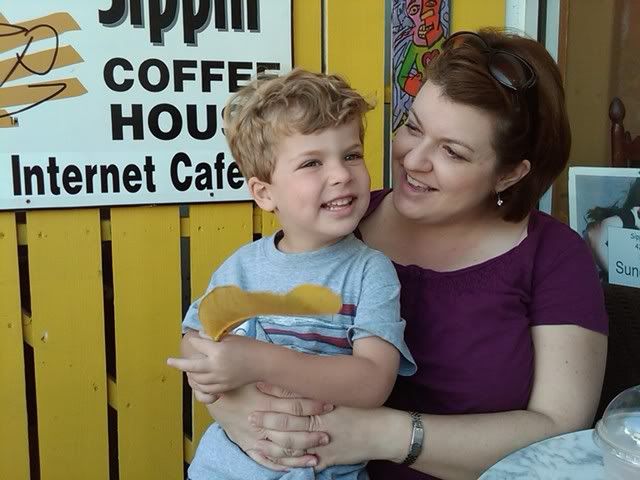 So, from our house to yours, we wish you all the very best this Christmas. Thanks so much for visiting, and enjoy the New Year!
Stacey, Susan, and Sam
link
Friday, November 5, 2010
More on the Film
Hey, folks,
Last night I drove over to Hickory, North Carolina to film a community discussion at Lenoir-Rhyne University with FaithinAmerica.com founder Mitchell Gold and a local pastor Bob Thompson of the United Church of Christ. As some of y'all know I've been working on a documentary film regarding Civil Rights issues in the GLBT community, and this was a discussion addressing faith-based bigotry in America. So, it was ideal for our film.
The biggest thing I came away with from this event was that there are (at least) two ways to frame the conversation on teen suicide due to anti-gay bullying, same-sex parent adoptions, Marriage-Equality, and broad anti-discrimination laws regarding sexual orientation in this country. Those two ways are 1) as a Civil Rights issue, or 2) as a Moral Religious issue.
What I am realizing is that advocates for anti-discrimination laws need to shift the focus of the conversation away from moral/religious issues. The church will be very slow to change on social policy issues.
In contrast, there is overwhelming public support for laws protecting GLBT people regarding housing (e.g., protecting GLBT folks from eviction from an apartment or neighbhorhood due to sexual orientation), employment (e.g., laws protecting GLBT folk from harrassment in the workplace because of sexual orientation), and bullying and harrassment in schools.
Many people assume that we already have these laws, but (at least in North Carolina) we do not. Schools can ban a student based on sexual orientation* regardless of the student's performance or intelligence, and there is no law to prevent this.
But as long as we continue to give voice to the church on the issue, we shift the focus from Civil Rights to Morality/Religion, and while the issues are intertwined, it is often the Morality/Religion focus that dominates the discussion. Furthermore, I am beginning to understand more clearly why our constitution states "Congress shall make no law respecting an establishment of religion."
When you examine the campaign funding for Proposition 8 in California and realize that the Mormon Church (which accounts for less than 2% of the California population) raised 90% of the money in the most expensive Proposition campaign in U.S. history to enact legislation, you can see how the wall of separation between church and state needs to be made stronger.
As a documentary filmmaker, this means that I give voice to the folks in our community who understand and advocate for (or debate) civil rights, rather than those who would define the issue morally.
_______
*NOTE: the following is the exact wording from NRCA's handbook: "The school reserves the right,within it sole discretion, to refuse admission of an applicant or to discontinue enrollment of a student if the atmosphere or conduct within a particular home or the activities of the student are counter to or in opposition to the biblical lifestyle the school teaches. This includes, but is not necessarily limited to, participating in, supporting, or condoning sexual immorality, homosexual activity, or bisexual activity; promoting such activities."
That there are no laws to prevent this kind of discrimination is regrettable. This is as clear a lack of protection of civil rights as you can define it. The school could ban a student for simply attending a community discussion such as the one I attended last night.

link
Sunday, October 10, 2010
Guest Blogger Cheryl Kaye Tardif
Hey, folks,
Please join me in welcoming guest blogger Cheryl Kaye Tardif to the staceycochran.com blog. Cheryl was kind enough to host me on my CLAWS 2 Blog Tour, and she is the author of the recently released Lancelot's Lady. Today she breaks down for aspiring writers exactly what you need to do to get early reviews and book blurbs for your book.
Take it away, Cheryl!
SC
=============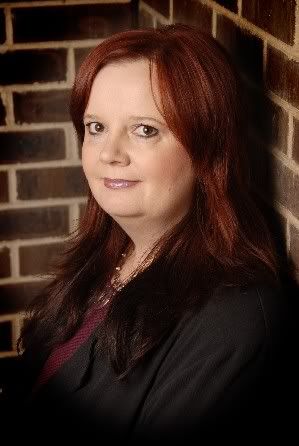 Cheryl Kaye Tardif, author of Lancelot's Lady

Thank you so much for having me on your blog during my Cherish the Romance Virtual Book Tour, which launches my contemporary romantic suspense, Lancelot's Lady. Many writers have asked me how they can get early reviews from industry reviewers and review blurbs from established authors, so today I'm going to answer that.
So how do you get early reviews and review blurbs? The easy answer: just ask. Really. That's what it boils down to, asking someone. Ask lots of someones and you're bound to get a 'yes'.
The more detailed answer: research, ask and ask others. Like so many things, including sending out agent queries, asking for reviews and blurbs is a numbers game that requires some preparation first. So let's break it down.
Research: You'll need to do some research to find out which reviewers read your genre and which authors are open to writing blurbs. Check your local newspapers to see if they still have a book reviewer. If they do, send the reviewer an email, with a brief synopsis (1-3 paragraphs) describing your book. Think of this synopsis like back cover text―present tense, exciting ad copy.
Check out the top reviewers on Amazon or Chapters and contact them. Search online for reviewers who write blogs, or have a Myspace or Facebook or Twitter account. An easy way to find these blogs is to Google search terms like "romance blogs", "mystery blogs" or whatever genre fits your book.
Use these same methods to contact authors whom you'd like a review blurb from, especially social networks. Contact authors who write in the same genre as you or have themes similar to what is in your book. Keep in mind that authors are busy people, so give them enough information to make a decision, including word count, genre and why you chose them.
Give authors plenty of notice; don't email them expecting a blurb in a month or two weeks. Sometimes you have better luck asking a mid-list author to write a blurb than a bestselling, award-winning big name author. Sometimes.
Ask: When you contact potential reviewers, make sure you remember to actually ask them for a review or review blurb. You can't get a 'yes' if you don't ask. Be gracious no matter what their answer is. Thank them for their time, regardless.
Ask Others: Don't just ask couple of reviewers and then wait months for an answer. Ask others! Keep asking. It's a numbers game, remember? You may have to go through a few nos to get that one yes. And you want more than one review.
Finding reviewers isn't that difficult nowadays; it just takes some work. Finding authors to give you a review blurb may take a bit more time, but it's so worth it. Just remember, do the research, ask and ask others.
Reading is subjective; everyone has different tastes. Writers should never expect 5 star rave reviews, though it's awesome to get them. An honest review is worth more than gold. Even if it's 3 stars and the reviewer didn't like one of your characters. There is always something to learn from a review―for an interested reader and the author. But the key to getting a review is to ask.
Lancelot's Lady ~ A Bahamas holiday from dying billionaire JT Lance, a man with a dark secret, leads palliative nurse Rhianna McLeod to Jonathan, a man with his own troubled past, and Rhianna finds herself drawn to the handsome recluse, while unbeknownst to her, someone with a horrific plan is hunting her down.
Lancelot's Lady is available in ebook edition at KoboBooks, Amazon's Kindle Store, Smashwords and other ebook retailers. Help me celebrate by picking up a copy today and "Cherish the romance..."
You can learn more about Lancelot's Lady and Cherish D'Angelo (aka Cheryl Kaye Tardif) at http://www.cherishdangelo.com and http://www.cherylktardif.blogspot.com. Follow Cherish from September 27 to October 10 on her Cherish the Romance Virtual Book Tour and win prizes.
Would you be so kind as to write a review of Lancelot's Lady after you read it and post it on sites like Amazon, KoboBooks, Goodreads, Shelfari, etc? I would sincerely appreciate it, and finding a new review online is like Christmas for me.
Leave a comment here, with email address, to be entered into the prize draws. You're guaranteed to receive at least 1 free ebook just for doing so. Plus you'll be entered to win a Kobo ereader. Winners will be announced after October 10th.
link
Saturday, October 9, 2010
Book Chatter #36, Guest Blogger, and New Stacey Cochran Books Author
Hey, folks,
Quick update to let everybody know that our first episode of Book Chatter Season #2 was last night and that it went well. We had author guests Scott Nicholson and Willow Polson and featured co-hosts RJ Keller and (on Live chat) Zoe Winters. You can watch the recorded version of the show here:
Book Chatter Episode #36 (Season 2)

Our next LIVE episode will be Friday October 22 at 9 PM (EST) and will feature author guests Tanya Plank, P.A. Wood, Lynda Hilburn. Follow me on Twitter for the latest updates and links to the LIVE show.
Also, just want to let everyone know that we'll be featuring a guest blogger on the staceycochran.com blog starting tomorrow. So please return and read and leave comments and feedback for her. Thanks, guys.
Finally, if you haven't visited the Stacey Cochran Books link then you're in for a treat. We have announced our new author, Steve Cushman. Check out the link to find out more about Stacey Cochran Books latest new eBook author.
Thanks for reading, everyone.
Stacey
P.S. On my night stand: Jim Thompson's The Killer Inside Me.

link
Wednesday, September 29, 2010
eBooks, Traditional Publishing, and What You Should Do
The Future of Publishing
If you follow publishing news as closely as I do, you probably are wondering what in the world is going on with the business. Nearly everywhere I turn on the blogs, the rhetoric has turned dark and stormy for the Big Six publishing companies.
eBooks and eReaders have exploded onto the scene in an unprecedented way driven largely by Seattle-based Amazon.com and its Kindle eReading devices. The tremendous growth that Kindle has seen has turned a lot of heads and created countless discussions over the web. It has also led to the explosion of new author careers. Writers like myself, Karen McQuestion, Elisa Lorello, Rob Kroese, Sam Landstrom, RJ Keller, and literally hundreds and hundreds of others who were flat-out rejected by Big Six New York publishing have sold tens of thousands of eBooks and have launched their careers.
My own books have sold close to 20,000 copies combined. I've also had 35,000 copies of a free eBook downloaded. My book trailer for CLAWS has been seen by over one million viewers.
If anybody would be justified in holding a grudge and being bitter about New York publishing, it should be me. Despite the obvious reader interest measurable in units sold and dollars earned, I've received over 3,000 rejections over my career.
But here's the truth. I'm not bitter at all. More than anything, I'm fascinated by the entire eBook phenomenon, and for the past six months have decided to take a quieter role to see exactly how the rhetoric shapes up.
My books continue to sell well, and I made more money this summer (2010) on the CLAWS 2 launch than I did the previous summer.
So If You're an Aspiring Writer, What Should You Do?
Through my howtopublishabook.org website, I get (on average) three questions per day every day from total strangers who have written a book and want to know what to do with it. Should you go the traditional route; should you get an agent. Should you self-publish and try to make it on your own.
I've definitely seen friends and other writers do complete 180s on this topic. JA Konrath, who I count as a mentor and friend, went from dissing self-published authors just five years ago, outright mocking them in fact, to now embracing self-publishing technology, and in the process turning his ire toward traditional publishers. In essence mocking the major publishers.
I think all of this is a bit strange.
My advice, by contrast, really has not changed in five years. I've done more than 300 bookstore, library, and online interviews with authors. And I still feel exactly the same way.
If you are an aspiring writer, and you have a book, your first objective is to secure a literary agent. A great literary agent should be a friend and someone you have total respect for, and should be someone who knows your career, your style, your goals, and your perception of yourself as a writer. A great literary agent should share your interests and your love of books, and should ultimately know who to pitch your book to.
Beyond that, your goal should be to sell your book to a major publisher with a strong secondary goal to sell the film rights to a production company that will actually turn your book into a movie.
If you can do these three things -- 1) secure a great literary agent, 2) sell your book to a major publisher, and 3) get your book optioned and produced as a movie -- your career is set. This is the blueprint you should be shooting for if you want the best chances for success, and everything you do should be in support of it.
If your book fails to find an agent after you've tried at least 100, then pitch it to editors on your own. Try at least 50 editors. If that pans out nothing, then you should strongly consider self-publishing.
I've learned so much about how to market books by taking the initiative myself, when I finally do sell a novel to a major publisher, I should be in a competitive position compared to the folks who have not spent five or ten years in the lonely DIY trenches repelling cannon fire from all angles.
The Bottom Line
There is no reason you shouldn't be working to make both markets -- eBooks and traditional publishing -- work to your advantage. I believe the power of great stories are universal, and your story can reach audiences in all types of media.
There's no reason to burn bridges, and piss off people needlessly. In the recent year, it seems like the folks with the blogs who spout off the most controversial rhetoric against one side or the other are the folks who get the most traffic (and end up selling the best).
That's a dangerous rope to balance from if you haven't already established yourself.
Be proactive, be strong, and do everything in your power to secure the book deal and the film production above all else. That is the best path for success with a book.
Peace.
SC
On my night-stand: a bunch of Kate DiCamillo books (I'm interviewing her in two weeks).
link
Tuesday, September 21, 2010
Big New, Big News!
Hey, folks,
I am pleased to announce that we will begin Season 2 of Book Chatter on Friday October 8 at 9:00 PM. After 35 successful interviews in Season 1, we've taken the summer off, but are now gearing up for the new Fall/Winter season. The new season will feature co-host R.J. Keller and newcomer Zoe Winters as fulltime correspondants.
The new season will also move from a weekly broadcast to a bi-weekly production with LIVE episodes airing on the 2nd and 4th Fridays of the month. Our goal is to roll from October to April for Season 2. Check back often for updates on upcoming guests and info on shows.
And please help spread the word! 2nd and 4th Fridays of the month at 9:00 PM (EST) LIVE! Rock on!
SC
link
Wednesday, September 15, 2010
DC Filming, Raleigh, and New Stacey Cochran Books Author
Last Thursday and Friday, the crew for my new documentary project and I headed up to Washington DC for filming. Despite some major hiccups involving filming permits around the Lincoln Memorial on Friday morning, we managed to do the interview with our DC guest up at George Washington University.
Got all footage onto the hard-drive on Saturday and started editing. I'm just gonna say how lucky I feel to be working with such talented folks. This film project is going to be big, if I can manage to stay on top of it and not get too overwhelmed.
Back in Raleigh this week, Monday through Wednesday. Tomorrow I'm taking off up to the Mt. Mitchell with Sam (and maybe Susan) for some much needed R&R and quiet time.
I will likely be announcing next week our new acquisition at Stacey Cochran Books. Hint: he's an award-winning novelist from here in North Carolina.
Stacey
P.S. On my night-stand: Scott Smith's A SIMPLE PLAN.
link
Thursday, September 2, 2010
Exciting News; New Film Release, New Stacey Cochran Books Release
Stacey Cochran Productions
For the past 24 hours, I've been finalizing a new DVD and VOD (Video-on-Demand) release titled "How to Write a Novel, How to Publish a Novel, How to Get a Literary Agent" under the Stacey Cochran Productions banner. This will be my third film release to a paying market.
The first film, an instructional titled "How to Publish a Novel, How to Get a Literary Agent" has consistently sold a few copies every single month since its release in August 2007. Furthermore, I've received a couple of positive customer reviews for the project, which have further added to the sales.
Has it made me a millionaire?
Of course not.
That said, I had absolutely no expectations whatsoever when I released the film three years ago, and it felt like I stumbled through the whole distribution process... yet managed to land on my feet in the end. (Actually, it felt more like finding my way in a very dark room.)
So I don't know what to make of this new film. It is, without a doubt, my most all-inclusive instructional video for how to write and publish a novel, and the knowledge-base that it comes from is three years wiser than the first film. So, it would seem to me to be a much better video.
I guess we'll see what viewers think.
Stacey Cochran Books
I am very excited about a new author I'll be publicizing, promoting, and publishing through the Stacey Cochran Books brand in the coming months. I can't officially go public with the news just yet, but I'm finalizing contract negotiations and everything should be official within the next couple of weeks. I would encourage you the check back here often over the next 14 days to get the latest breaking news. What I can say is that this author is an award-winning novelist whose novels have garnered serious critical acclaim.
Intriguing.
So help me spread the word, folks. We are looking for established authors at Stacey Cochran Books. If you know of an author whose books are available on Amazon.com, yet they have not made their way to Kindle, let me know. Post a comment. Drop me a line. Make a recommendation.
I'm looking to bring authors to an eReading audience with this new imprint. So let me know if you have a suggestion of an author I should reach out to with Stacey Cochran Books.
How to Be Happy in Love
Finally, the How to Be Happy in Love documentary film project rolls onward. I've edited together day one of filming, and we're currently putting together our next series of interviews for the film. Hopefully, I'll have some cool updates to spread the word about in the coming weeks and months. If you want to get involved with the film or know someone who would make for a great interview, let me know.
On my nightstand: John Steinbeck's Travels with Charley.
SC
link